Defining Faith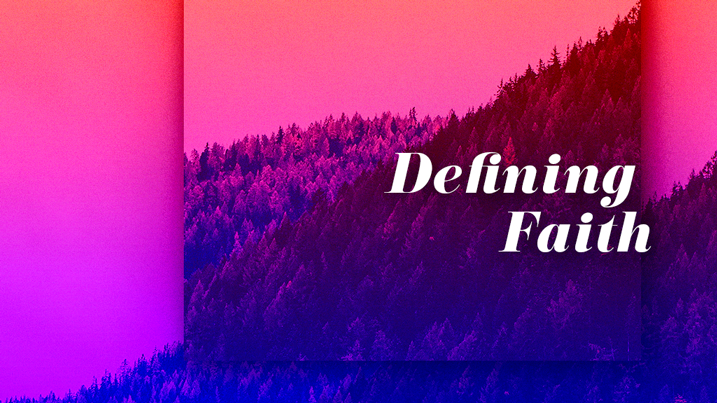 Faith is such a big word that it is vague to many people. If you were to ask someone what faith is, they would have difficulty giving it a definition. Why? Because it is so hard to get a grasp on for many people.
The Bible says in Hebrews 11:1, "Now faith is the assurance of things hoped for, the conviction of things not seen." Many people of the Old Testament were considered heroes of the faith, people such as Noah, Moses, Abraham, and Isaac. All these patriarchs died in the faith to receive their future promises.
Hebrews 11:13 says- These all died in faith, not having received the things promised, but having seen them and greeted them from afar, and having acknowledged that they were strangers and exiles on the earth.
The Bible is full of verses about faith.
Romans 12:3 says- For by the grace given to me I say to everyone among you not to think of himself more highly than he ought to think, but to think with sober judgment, each according to the measure of faith that God has assigned.
Several years ago, my oldest daughter's confirmation verse was Hebrews 11:6. I remember we talked about it. At first, she wanted something a little more dynamic. But as we looked at it in more detail, we realized that it was an extremely powerful verse.
Hebrews 11:6 says- And without faith, it is impossible to please him, for whoever would draw near to God must believe that he exists and that he rewards those who seek him.
We realized that if you don't have faith in our Lord, there's no way you can please Him. It really opened her eyes.
God has given us a course of action as to how to live our lives. That course is to live by faith in Him.
Romans 1:17 says- For in it the righteousness of God is revealed from faith for faith, as it is written, "The righteous shall live by faith."
How are we justified or made right in God's eyes? We are justified by faith, as in Galatians 2:16.
Galatians 2:16 says- yet we know that a person is not justified[a] by works of the law, but through faith in Jesus Christ, so we also have believed in Christ Jesus, in order to be justified by faith in Christ and not by works of the law, because by works of the law no one will be justified.
We could go on and on about all the Scriptures of faith. I will mention just a couple more.
How are we saved? We are saved because of our faith, as Ephesians 2:8-9 describes.
Ephesians 2:8-9 says- For by grace you have been saved through faith. And this is not your own doing; it is the gift of God, not a result of works, so that no one may boast.
Some people might ask, does our faith stay the same, or does it grow, or does it waver or change over time? Yes, it does. We should always want our faith to grow and mature. It has been clearly mentioned in Romans chapter 10. We need to be in God's Word if we are to grow in our faith.
Romans 10:17 says- "So faith comes from hearing, and hearing through the word of Christ."
As I mentioned, there are hundreds of other verses which clearly show that faith is absolutely essential to the process of salvation. It takes faith to believe the Scriptures; it takes faith to believe that God exists and that he rewards those who diligently seek Him, and it takes faith to seek a heavenly Kingdom when the world tells you to store up your treasures on earth and seek the comforts of life now.
Faith by the Holy Spirit will guide us to develop God-pleasing works that deny our sinful self. Taking up our cross has to be a daily matter. To be a true servant of God takes genuine humility.
When helping others to better grow in their faith, we can always show the magnitude of God's love through the His cross. As teachers and leaders, we are to build up Christ, not our own reputation.
When leading people to Christ, and to help mature their faith. People respond much better by example than lectures. We can also help people grow in their faith by helping others to develop accountability. As we teach others how to be accountable to their Christian faith, we can bond and grow together in our love for Christ.
As we humbly teach others how to truly confess and repent daily, we can teach them the power of Christ and how our faith will mature and grow daily in coming closer to Jesus. Our life is not about "choosing Jesus" or "turning our heart over to him" in faith. We don't need a choice. We need a resurrection! Because of God's great love for us, he has made us alive in Christ Jesus. The death of sin no longer overpowers us.
As we continue to grow in our faith, we can learn the power of sanctification. My faith drives my works, not good works driving my faith. Faith is the essence of our DNA.
Understanding what faith is can be complicated, yet it can be a simple concept to understand. Our message to convey is to properly introduce faith and help others to know the path to follow to make it grow, which is of life importance. Our faith in Christ Jesus is important for people facing all eternity forever and ever!
As we continue to grow in our faith, we can learn from Scripture, "I have been crucified with Christ. It is no longer I who live, but Christ who lives in me. And the life I now live in the flesh I live by faith in the Son of God, who loved me and gave himself for me" (Galatians 2:20).
May God bless you as you continue to grow in your faith.
Pastor Dave