Readings to prepare for Jan 1 Services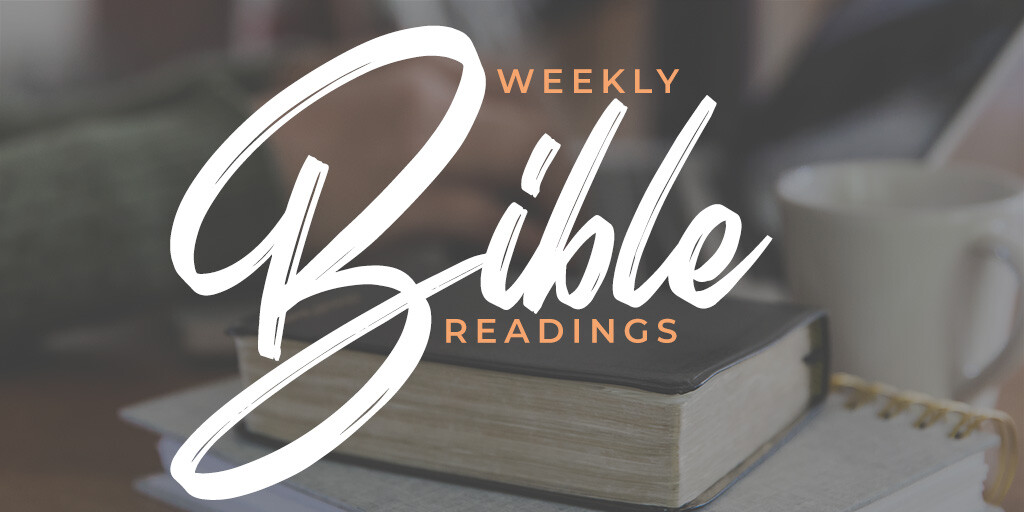 Old Testament Reading:
Isaiah 63:7-14
The Lord's Mercy Remembered
7 I will recount the steadfast love of the Lord, the praises of the Lord, according to all that the Lord has granted us, and the great goodness to the house of Israel that he has granted them according to his compassion, according to the abundance of his steadfast love.
8 For he said, "Surely they are my people, children who will not deal falsely." And he became their Savior.
9 In all their affliction he was afflicted, and the angel of his presence saved them; in his love and in his pity he redeemed them; he lifted them up and carried them all the days of old.
10 But they rebelled and grieved his Holy Spirit; therefore he turned to be their enemy, and himself fought against them.
11 Then he remembered the days of old, of Moses and his people. Where is he who brought them up out of the sea with the shepherds of his flock? Where is he who put in the midst of them his Holy Spirit, 12 who caused his glorious arm to go at the right hand of Moses, who divided the waters before them to make for himself an everlasting name, 13who led them through the depths?
Like a horse in the desert, they did not stumble.
14 Like livestock that go down into the valley, the Spirit of the Lord gave them rest. So you led your people, to make for yourself a glorious name.
Second Reading:
Galatians 4:4-7
4 But when the fullness of time had come, God sent forth his Son, born of woman, born under the law, 5 to redeem those who were under the law, so that we might receive adoption as sons. 6 And because you are sons, God has sent the Spirit of his Son into our hearts, crying, "Abba! Father!" 7 So you are no longer a slave, but a son, and if a son, then an heir through God.

GOSPEL READING:

John 7:1-24
Jesus at the Feast of Booths
7 After this Jesus went about in Galilee. He would not go about in Judea, because the Jews were seeking to kill him. 2 Now the Jews' Feast of Booths was at hand. 3 So his brothers said to him, "Leave here and go to Judea, that your disciples also may see the works you are doing. 4 For no one works in secret if he seeks to be known openly. If you do these things, show yourself to the world." 5 For not even his brothers believed in him. 6 Jesus said to them, "My time has not yet come, but your time is always here. 7 The world cannot hate you, but it hates me because I testify about it that its works are evil. 8 You go up to the feast. I am not going up to this feast, for my time has not yet fully come." 9 After saying this, he remained in Galilee.
10 But after his brothers had gone up to the feast, then he also went up, not publicly but in private. 11 The Jews were looking for him at the feast, and saying, "Where is he?" 12 And there was much muttering about him among the people. While some said, "He is a good man," others said, "No, he is leading the people astray." 13 Yet for fear of the Jews no one spoke openly of him.
14 About the middle of the feast Jesus went up into the temple and began teaching. 15 The Jews therefore marveled, saying, "How is it that this man has learning, when he has never studied?" 16 So Jesus answered them, "My teaching is not mine, but his who sent me. 17 If anyone's will is to do God's will, he will know whether the teaching is from God or whether I am speaking on my own authority. 18 The one who speaks on his own authority seeks his own glory; but the one who seeks the glory of him who sent him is true, and in him there is no falsehood. 19 Has not Moses given you the law? Yet none of you keeps the law. Why do you seek to kill me?" 20 The crowd answered, "You have a demon! Who is seeking to kill you?" 21 Jesus answered them, "I did one work, and you all marvel at it. 22 Moses gave you circumcision (not that it is from Moses, but from the fathers), and you circumcise a man on the Sabbath. 23 If on the Sabbath a man receives circumcision, so that the law of Moses may not be broken, are you angry with me because on the Sabbath I made a man's whole body well? 24 Do not judge by appearances, but judge with right judgment."