Readings to prepare for July 9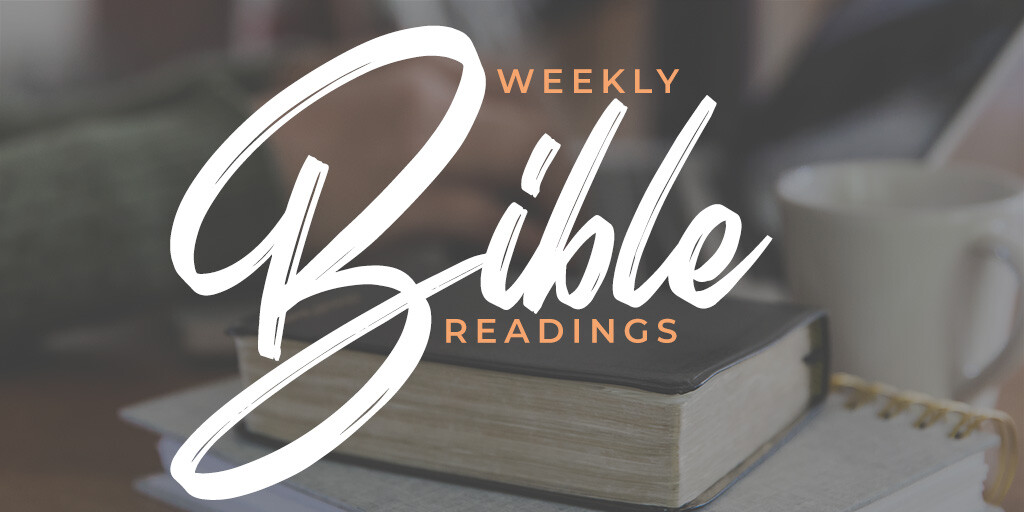 Old Testament Reading: Zechariah 9:9-12
The Coming King of Zion
9 Rejoice greatly, O daughter of Zion! Shout aloud, O daughter of Jerusalem! Behold, your king is coming to you; righteous and having salvation is he, humble and mounted on a donkey, on a colt, the foal of a donkey.
10 I will cut off the chariot from Ephraim and the war horse from Jerusalem; and the battle bow shall be cut off, and he shall speak peace to the nations; his rule shall be from sea to sea, and from the River to the ends of the earth.
11 As for you also, because of the blood of my covenant with you, I will set your prisoners free from the waterless pit.
12 Return to your stronghold, O prisoners of hope; today I declare that I will restore to you double.
Second Reading: Romans 7:14-25a
14 For we know that the law is spiritual, but I am of the flesh, sold under sin. 15 For I do not understand my own actions. For I do not do what I want, but I do the very thing I hate. 16 Now if I do what I do not want, I agree with the law, that it is good. 17 So now it is no longer I who do it, but sin that dwells within me. 18 For I know that nothing good dwells in me, that is, in my flesh. For I have the desire to do what is right, but not the ability to carry it out. 19 For I do not do the good I want, but the evil I do not want is what I keep on doing. 20 Now if I do what I do not want, it is no longer I who do it, but sin that dwells within me.
21 So I find it to be a law that when I want to do right, evil lies close at hand. 22 For I delight in the law of God, in my inner being, 23 but I see in my members another law waging war against the law of my mind and making me captive to the law of sin that dwells in my members. 24 Wretched man that I am! Who will deliver me from this body of death? 25 Thanks be to God through Jesus Christ our Lord! So then, I myself serve the law of God with my mind, but with my flesh I serve the law of sin.
Gospel Reading: John 17:1-26
The High Priestly Prayer
17 When Jesus had spoken these words, he lifted up his eyes to heaven, and said, "Father, the hour has come; glorify your Son that the Son may glorify you, 2 since you have given him authority over all flesh, to give eternal life to all whom you have given him. 3 And this is eternal life, that they know you, the only true God, and Jesus Christ whom you have sent. 4 I glorified you on earth, having accomplished the work that you gave me to do. 5 And now, Father, glorify me in your own presence with the glory that I had with you before the world existed.
6 "I have manifested your name to the people whom you gave me out of the world. Yours they were, and you gave them to me, and they have kept your word. 7 Now they know that everything that you have given me is from you. 8 For I have given them the words that you gave me, and they have received them and have come to know in truth that I came from you; and they have believed that you sent me. 9 I am praying for them. I am not praying for the world but for those whom you have given me, for they are yours. 10 All mine are yours, and yours are mine, and I am glorified in them. 11 And I am no longer in the world, but they are in the world, and I am coming to you. Holy Father, keep them in your name, which you have given me, that they may be one, even as we are one. 12 While I was with them, I kept them in your name, which you have given me. I have guarded them, and not one of them has been lost except the son of destruction, that the Scripture might be fulfilled. 13 But now I am coming to you, and these things I speak in the world, that they may have my joy fulfilled in themselves. 14 I have given them your word, and the world has hated them because they are not of the world, just as I am not of the world. 15 I do not ask that you take them out of the world, but that you keep them from the evil one. 16 They are not of the world, just as I am not of the world. 17 Sanctify them in the truth; your word is truth. 18 As you sent me into the world, so I have sent them into the world. 19 And for their sake I consecrate myself, that they also may be sanctified in truth.
20 "I do not ask for these only, but also for those who will believe in me through their word, 21 that they may all be one, just as you, Father, are in me, and I in you, that they also may be in us, so that the world may believe that you have sent me. 22 The glory that you have given me I have given to them, that they may be one even as we are one, 23 I in them and you in me, that they may become perfectly one, so that the world may know that you sent me and loved them even as you loved me. 24 Father, I desire that they also, whom you have given me, may be with me where I am, to see my glory that you have given me because you loved me before the foundation of the world. 25 O righteous Father, even though the world does not know you, I know you, and these know that you have sent me. 26 I made known to them your name, and I will continue to make it known, that the love with which you have loved me may be in them, and I in them."