Readings to prepare for June 25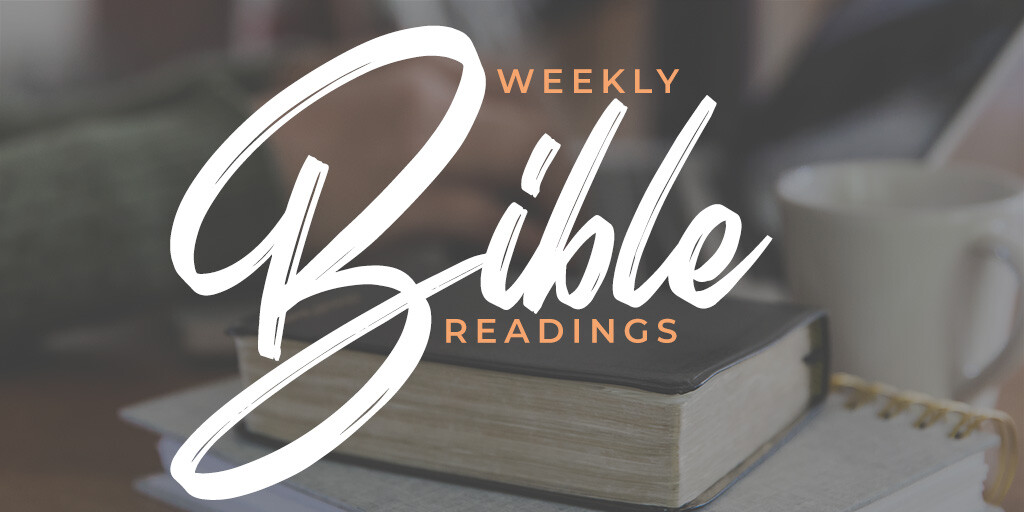 Old Testament Reading: Jeremiah 20:7-13
7O Lord, you have deceived me, and I was deceived;
you are stronger than I, and you have prevailed.
I have become a laughingstock all the day; everyone mocks me. 8 For whenever I speak, I cry out, I shout, "Violence and destruction!" For the word of the Lord has become for me a reproach and derision all day long.
9 If I say, "I will not mention him, or speak any more in his name," there is in my heart as it were a burning fire shut up in my bones, and I am weary with holding it in, and I cannot.
10 For I hear many whispering. Terror is on every side!
"Denounce him! Let us denounce him!" say all my close friends, watching for my fall.
"Perhaps he will be deceived; then we can overcome him
and take our revenge on him."
11 But the Lord is with me as a dread warrior; therefore my persecutors will stumble; they will not overcome me. They will be greatly shamed, for they will not succeed. Their eternal dishonor will never be forgotten.
12 O Lord of hosts, who tests the righteous, who sees the heart and the mind, let me see your vengeance upon them, for to you have I committed my cause.
13 Sing to the Lord; praise the Lord! For he has delivered the life of the needy from the hand of evildoers.
Second Reading: Romans 6:12-23
12 Let not sin therefore reign in your mortal body, to make you obey its passions. 13 Do not present your members to sin as instruments for unrighteousness, but present yourselves to God as those who have been brought from death to life, and your members to God as instruments for righteousness. 14 For sin will have no dominion over you, since you are not under law but under grace.
Slaves to Righteousness
15 What then? Are we to sin because we are not under law but under grace? By no means! 16 Do you not know that if you present yourselves to anyone as obedient slaves, you are slaves of the one whom you obey, either of sin, which leads to death, or of obedience, which leads to righteousness? 17 But thanks be to God, that you who were once slaves of sin have become obedient from the heart to the standard of teaching to which you were committed, 18 and, having been set free from sin, have become slaves of righteousness. 19 I am speaking in human terms, because of your natural limitations. For just as you once presented your members as slaves to impurity and to lawlessness leading to more lawlessness, so now present your members as slaves to righteousness leading to sanctification.
20 For when you were slaves of sin, you were free in regard to righteousness. 21 But what fruit were you getting at that time from the things of which you are now ashamed? For the end of those things is death. 22 But now that you have been set free from sin and have become slaves of God, the fruit you get leads to sanctification and its end, eternal life. 23 For the wages of sin is death, but the free gift of God is eternal life in Christ Jesus our Lord.
Gospel Reading: John 16:1-15
"I have said all these things to you to keep you from falling away. 2 They will put you out of the synagogues. Indeed, the hour is coming when whoever kills you will think he is offering service to God. 3 And they will do these things because they have not known the Father, nor me. 4 But I have said these things to you, that when their hour comes you may remember that I told them to you.
The Work of the Holy Spirit
"I did not say these things to you from the beginning, because I was with you. 5 But now I am going to him who sent me, and none of you asks me, 'Where are you going?' 6 But because I have said these things to you, sorrow has filled your heart. 7 Nevertheless, I tell you the truth: it is to your advantage that I go away, for if I do not go away, the Helper will not come to you. But if I go, I will send him to you. 8 And when he comes, he will convict the world concerning sin and righteousness and judgment: 9 concerning sin, because they do not believe in me; 10 concerning righteousness, because I go to the Father, and you will see me no longer; 11 concerning judgment, because the ruler of this world is judged.
12 "I still have many things to say to you, but you cannot bear them now. 13 When the Spirit of truth comes, he will guide you into all the truth, for he will not speak on his own authority, but whatever he hears he will speak, and he will declare to you the things that are to come. 14 He will glorify me, for he will take what is mine and declare it to you. 15 All that the Father has is mine; therefore I said that he will take what is mine and declare it to you.