Readings to prepare for March 12 Service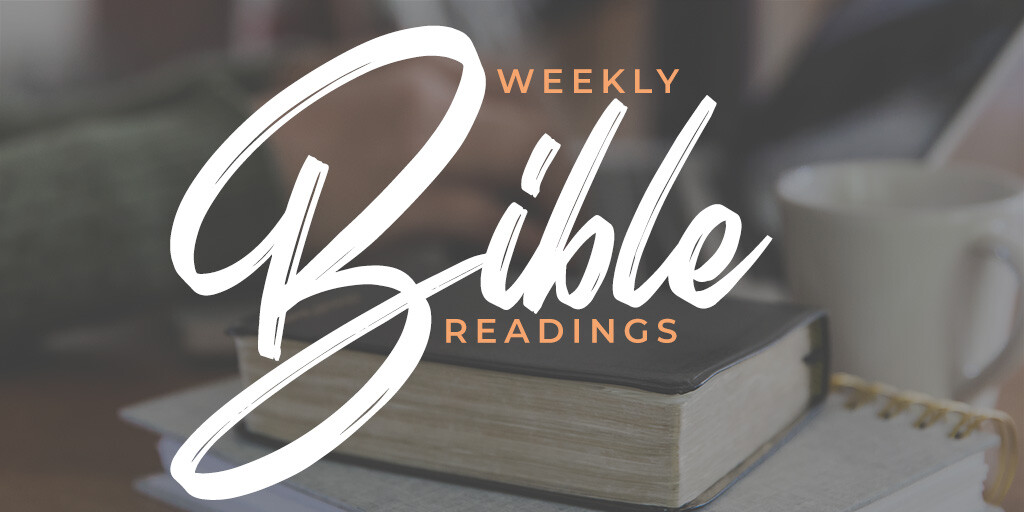 Old Testament Reading: Exodus 17:1-7
Water from the Rock
17 All the congregation of the people of Israel moved on from the wilderness of Sin by stages, according to the commandment of the Lord, and camped at Rephidim, but there was no water for the people to drink. 2 Therefore the people quarreled with Moses and said, "Give us water to drink." And Moses said to them, "Why do you quarrel with me? Why do you test the Lord?" 3 But the people thirsted there for water, and the people grumbled against Moses and said, "Why did you bring us up out of Egypt, to kill us and our children and our livestock with thirst?" 4 So Moses cried to the Lord, "What shall I do with this people? They are almost ready to stone me." 5 And the Lord said to Moses, "Pass on before the people, taking with you some of the elders of Israel, and take in your hand the staff with which you struck the Nile, and go. 6 Behold, I will stand before you there on the rock at Horeb, and you shall strike the rock, and water shall come out of it, and the people will drink." And Moses did so, in the sight of the elders of Israel. 7 And he called the name of the place Massah and Meribah, because of the quarreling of the people of Israel, and because they tested the Lord by saying, "Is the Lord among us or not?"
Second Reading: 1 Corinthians 10:1-13
Warning Against Idolatry
10 For I do not want you to be unaware, brothers, that our fathers were all under the cloud, and all passed through the sea, 2 and all were baptized into Moses in the cloud and in the sea, 3 and all ate the same spiritual food, 4 and all drank the same spiritual drink. For they drank from the spiritual Rock that followed them, and the Rock was Christ. 5 Nevertheless, with most of them God was not pleased, for they were overthrown in the wilderness.
6 Now these things took place as examples for us, that we might not desire evil as they did. 7 Do not be idolaters as some of them were; as it is written, "The people sat down to eat and drink and rose up to play." 8 We must not indulge in sexual immorality as some of them did, and twenty-three thousand fell in a single day. 9 We must not put Christ to the test, as some of them did and were destroyed by serpents, 10 nor grumble, as some of them did and were destroyed by the Destroyer. 11 Now these things happened to them as an example, but they were written down for our instruction, on whom the end of the ages has come. 12 Therefore let anyone who thinks that he stands take heed lest he fall. 13 No temptation has overtaken you that is not common to man. God is faithful, and he will not let you be tempted beyond your ability, but with the temptation he will also provide the way of escape, that you may be able to endure it.
Gospel Reading: Matthew 5:38-48
Retaliation
38 "You have heard that it was said, 'An eye for an eye and a tooth for a tooth.' 39 But I say to you, Do not resist the one who is evil. But if anyone slaps you on the right cheek, turn to him the other also. 40 And if anyone would sue you and take your tunic, let him have your cloak as well. 41 And if anyone forces you to go one mile, go with him two miles. 42 Give to the one who begs from you, and do not refuse the one who would borrow from you.
Love Your Enemies
43 "You have heard that it was said, 'You shall love your neighbor and hate your enemy.' 44 But I say to you, Love your enemies and pray for those who persecute you, 45 so that you may be sons of your Father who is in heaven. For he makes his sun rise on the evil and on the good, and sends rain on the just and on the unjust. 46 For if you love those who love you, what reward do you have? Do not even the tax collectors do the same? 47 And if you greet only your brothers, what more are you doing than others? Do not even the Gentiles do the same? 48 You therefore must be perfect, as your heavenly Father is perfect.