Readings to prepare for May 14 Service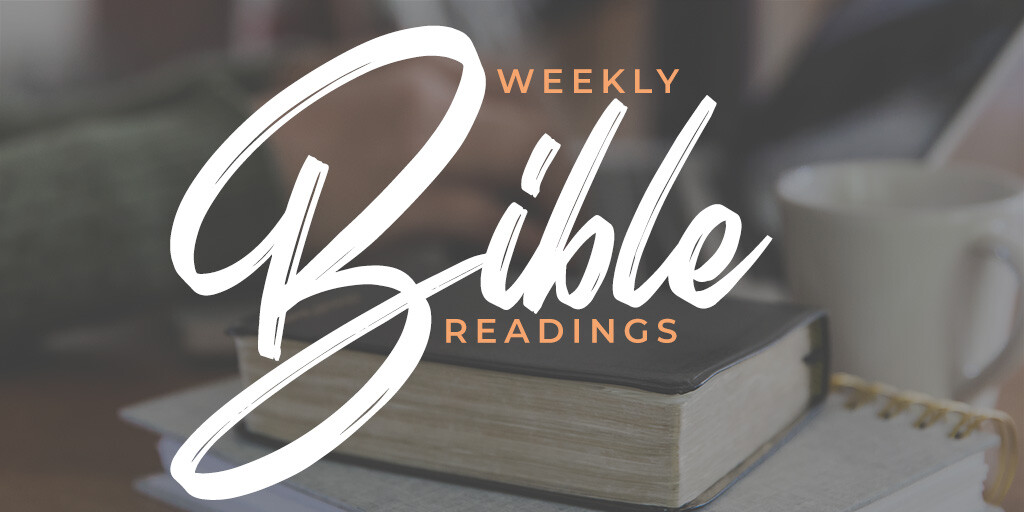 Old Testament Reading: Psalm 66:8-20
8 Bless our God, O peoples; let the sound of his praise be heard, 9 who has kept our soul among the living and has not let our feet slip.
10 For you, O God, have tested us; you have tried us as silver is tried.
11 You brought us into the net; you laid a crushing burden on our backs; 12 you let men ride over our heads; we went through fire and through water; yet you have brought us out to a place of abundance.
13 I will come into your house with burnt offerings; I will perform my vows to you, 14 that which my lips uttered
and my mouth promised when I was in trouble.
15 I will offer to you burnt offerings of fattened animals, with the smoke of the sacrifice of rams; I will make an offering of bulls and goats. Selah
16 Come and hear, all you who fear God, and I will tell what he has done for my soul.
17 I cried to him with my mouth, and high praise was on my tongue.
18 If I had cherished iniquity in my heart, the Lord would not have listened.
19 But truly God has listened; he has attended to the voice of my prayer.
20 Blessed be God, because he has not rejected my prayer
or removed his steadfast love from me!
Second Reading: 1Peter 3:13-22
13 Now who is there to harm you if you are zealous for what is good? 14 But even if you should suffer for righteousness' sake, you will be blessed. Have no fear of them, nor be troubled, 15 but in your hearts honor Christ the Lord as holy, always being prepared to make a defense to anyone who asks you for a reason for the hope that is in you; yet do it with gentleness and respect, 16 having a good conscience, so that, when you are slandered, those who revile your good behavior in Christ may be put to shame. 17 For it is better to suffer for doing good, if that should be God's will, than for doing evil.
18 For Christ also suffered once for sins, the righteous for the unrighteous, that he might bring us to God, being put to death in the flesh but made alive in the spirit, 19 in which he went and proclaimed to the spirits in prison, 20 because they formerly did not obey, when God's patience waited in the days of Noah, while the ark was being prepared, in which a few, that is, eight persons, were brought safely through water. 21 Baptism, which corresponds to this, now saves you, not as a removal of dirt from the body but as an appeal to God for a good conscience, through the resurrection of Jesus Christ, 22 who has gone into heaven and is at the right hand of God, with angels, authorities, and powers having been subjected to him.
Gospel Reading: John 13:1-17
Jesus Washes the Disciples' Feet
13 Now before the Feast of the Passover, when Jesus knew that his hour had come to depart out of this world to the Father, having loved his own who were in the world, he loved them to the end. 2 During supper, when the devil had already put it into the heart of Judas Iscariot, Simon's son, to betray him, 3 Jesus, knowing that the Father had given all things into his hands, and that he had come from God and was going back to God, 4 rose from supper. He laid aside his outer garments, and taking a towel, tied it around his waist. 5 Then he poured water into a basin and began to wash the disciples' feet and to wipe them with the towel that was wrapped around him. 6 He came to Simon Peter, who said to him, "Lord, do you wash my feet?" 7 Jesus answered him, "What I am doing you do not understand now, but afterward you will understand." 8 Peter said to him, "You shall never wash my feet." Jesus answered him, "If I do not wash you, you have no share with me." 9 Simon Peter said to him, "Lord, not my feet only but also my hands and my head!" 10 Jesus said to him, "The one who has bathed does not need to wash, except for his feet, but is completely clean. And you are clean, but not every one of you." 11 For he knew who was to betray him; that was why he said, "Not all of you are clean."
12 When he had washed their feet and put on his outer garments and resumed his place, he said to them, "Do you understand what I have done to you? 13 You call me Teacher and Lord, and you are right, for so I am. 14 If I then, your Lord and Teacher, have washed your feet, you also ought to wash one another's feet. 15 For I have given you an example, that you also should do just as I have done to you. 16 Truly, truly, I say to you, a servant is not greater than his master, nor is a messenger greater than the one who sent him. 17 If you know these things, blessed are you if you do them.