Readings to prepare for May 21 Service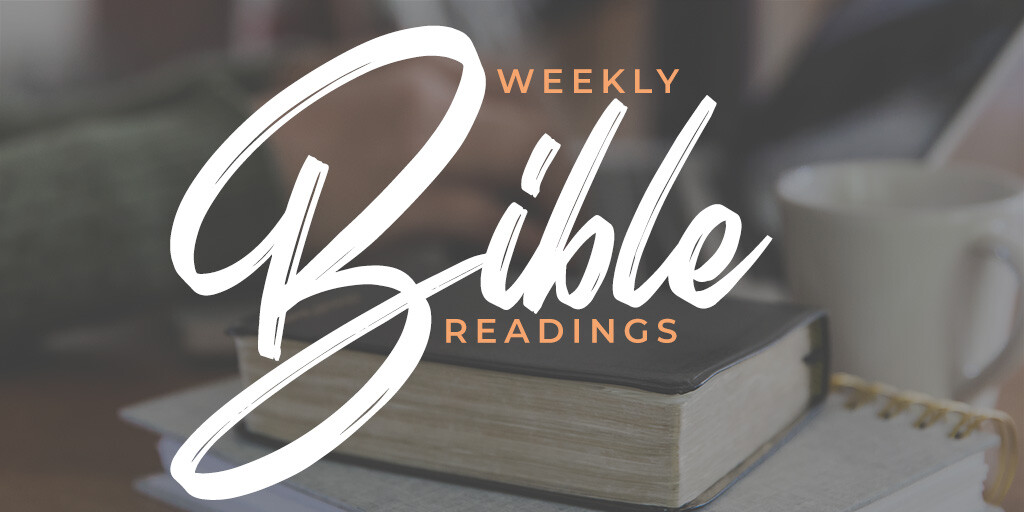 Old Testament Reading: Psalm 68:1-10
God Shall Scatter His Enemies
To the choirmaster. A Psalm of David. A Song.
68 God shall arise, his enemies shall be scattered;
and those who hate him shall flee before him!
2 As smoke is driven away, so you shall drive them away;
as wax melts before fire,
so the wicked shall perish before God!
3 But the righteous shall be glad;
they shall exult before God;
they shall be jubilant with joy!
4 Sing to God, sing praises to his name;
lift up a song to him who rides through the deserts;
his name is the Lord;
exult before him!
5 Father of the fatherless and protector of widows
is God in his holy habitation.
6 God settles the solitary in a home;
he leads out the prisoners to prosperity,
but the rebellious dwell in a parched land.
7 O God, when you went out before your people,
when you marched through the wilderness, Selah
8 the earth quaked, the heavens poured down rain,
before God, the One of Sinai,
before God, the God of Israel.
9 Rain in abundance, O God, you shed abroad;
you restored your inheritance as it languished;
10 your flock found a dwelling in it;
in your goodness, O God, you provided for the needy.
Second Reading: 1 Peter 4:12-19
Suffering as a Christian
12 Beloved, do not be surprised at the fiery trial when it comes upon you to test you, as though something strange were happening to you. 13 But rejoice insofar as you share Christ's sufferings, that you may also rejoice and be glad when his glory is revealed. 14 If you are insulted for the name of Christ, you are blessed, because the Spirit of glory and of God rests upon you. 15 But let none of you suffer as a murderer or a thief or an evildoer or as a meddler. 16 Yet if anyone suffers as a Christian, let him not be ashamed, but let him glorify God in that name. 17 For it is time for judgment to begin at the household of God; and if it begins with us, what will be the outcome for those who do not obey the gospel of God? 18 And
"If the righteous is scarcely saved,
what will become of the ungodly and the sinner?"
19 Therefore let those who suffer according to God's will entrust their souls to a faithful Creator while doing good.
Gospel Reading: John 13:18-38
18 I am not speaking of all of you; I know whom I have chosen. But the Scripture will be fulfilled, 'He who ate my bread has lifted his heel against me.' 19 I am telling you this now, before it takes place, that when it does take place you may believe that I am he. 20 Truly, truly, I say to you, whoever receives the one I send receives me, and whoever receives me receives the one who sent me."
One of You Will Betray Me
21 After saying these things, Jesus was troubled in his spirit, and testified, "Truly, truly, I say to you, one of you will betray me." 22 The disciples looked at one another, uncertain of whom he spoke. 23 One of his disciples, whom Jesus loved, was reclining at table at Jesus' side, 24 so Simon Peter motioned to him to ask Jesus of whom he was speaking. 25 So that disciple, leaning back against Jesus, said to him, "Lord, who is it?" 26 Jesus answered, "It is he to whom I will give this morsel of bread when I have dipped it." So when he had dipped the morsel, he gave it to Judas, the son of Simon Iscariot. 27 Then after he had taken the morsel, Satan entered into him. Jesus said to him, "What you are going to do, do quickly." 28 Now no one at the table knew why he said this to him. 29 Some thought that, because Judas had the moneybag, Jesus was telling him, "Buy what we need for the feast," or that he should give something to the poor. 30 So, after receiving the morsel of bread, he immediately went out. And it was night.
A New Commandment
31 When he had gone out, Jesus said, "Now is the Son of Man glorified, and God is glorified in him. 32 If God is glorified in him, God will also glorify him in himself, and glorify him at once. 33 Little children, yet a little while I am with you. You will seek me, and just as I said to the Jews, so now I also say to you, 'Where I am going you cannot come.' 34 A new commandment I give to you, that you love one another: just as I have loved you, you also are to love one another. 35 By this all people will know that you are my disciples, if you have love for one another."
Jesus Foretells Peter's Denial
36 Simon Peter said to him, "Lord, where are you going?" Jesus answered him, "Where I am going you cannot follow me now, but you will follow afterward." 37 Peter said to him, "Lord, why can I not follow you now? I will lay down my life for you." 38 Jesus answered, "Will you lay down your life for me? Truly, truly, I say to you, the rooster will not crow till you have denied me three times.